Lab-on-Chip Technologies: Basics and Applications
Objectifs du cours
This course will take place right before the Nano Bio Tech Conference Montreux. Registration to the course DOES NOT include access to the conference!
Microfluidics devices and systems have become essential elements for modern biochemistry, bioanalytics and analytical chemistry. In particular, microfluidics represents the new platform for high-throughput experimentation and analysis. It is considered one of the most promising, but also divers, application areas of MST or MEMS. It is the aim of this course to present the technological state of the art in microfluidics to users from areas such as life sciences, (bio)chemistry, pharmacologyand biomedicine on the one hand, and on the other hand to make micromechanics and microfluidics engineers familiar with potential application areas and requirements.
Public cible
The course addresses engineers and researchers from companies or institutes active in analytical chemistry, manufacturing of analytical and medical instruments, pharmaceutical sector and bio sciences or in the manufacturing processes of micro devices. Biochemists, analytical chemists that want an entry or update in the field of microfluidics.
Contenu
Introduction to fluid mechanics: the effect of downscaling
Introduction in microtechnology for fabrication of microfluidic devices: silicon/glass/polymer technologies, patterning/etching/bonding/deposition techniques
Labs-on-Chip (LOC) / Micro Total Analysis Systems
Microfluidics platforms: droplet microfluidics, centrifugal microfluidics, paper microfluidics etc…
"Omics" Applications: genomics/proteomics/ cell analysis
Emerging fields, such as organ-on-a-chip
Nanotechnology
Commercialization aspects
Enseignants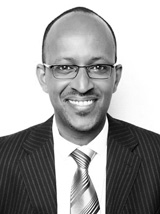 Aman Russom is an Associate Professor at KTH Royal Institute of Technology in Stockholm. He received his M. Sc. degree in Chemical Engineer with emphasis on Biotechnology in 2000 and his PhD in 2005 from KTH Royal Institute of Technology, Sweden. Dr Russom then did his postdoc fellowship at Harvard Medical School between 2005-2008. In 2008 he returned back to Sweden, where he is currently heading the clinical microfluidics Lab, currently consisting of 7 PhD students and one senior researcher, at the division of Proteomics and Nanobiotechnology at Science for Life laboratory KTH Royal Institute of Technology. His current research is focused on applying engineering principles and technologies, especially micro-and nanotechnology, to clinical medicine with emphasis on point of care diagnostics.
Dr Loes Segerink is an assistant professor at the BIOS Lab-on-a-Chip group at the University of Twente, Enschede (NL) and director of the strategic research orientation Biomedical Microdevices of the MIRA institute. The focus of her work is on the development of microfluidic systems for (bio)?medical applications, such as further development of the fertility chip and participating in the Nanopil project for detection of cancer. In March 2013 she got her University teaching qualification (UTQ). She is supervising several PhD, bachelor and master students.
| | |
| --- | --- |
| Date et Lieu (jj.mm.aaaa) | 17.06.2019 - 18.06.2019 | Geneva, Campus Biotech |
| Coût | CHF 1'300.00 |
| Langue | English |
| Inscription | Deux semaines avant le cours |
| Organisation | FSRM, Fondation suisse pour la recherche en microtechnique |
| Informations et inscription | Gilles Delachaux, FSRM, e-mail: fsrm@fsrm.ch |